トップへ » 医院について » English Page » HAGOROMO DENTAL CLINIC
HAGOROMO DENTAL CLINIC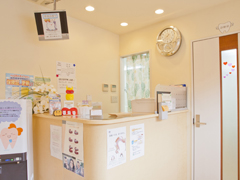 message
Welcome to our website. Congratulations on your first step towards better oral and general health. We are here to provide you with as much information as you need about today's high-tech Dental Services. This will help you better understand the course of your treatment, and we are here to answer any questions you may have relating to dental therapy. Our mission is to help you plan for a future of good dental health. If you have a concern or need additional information, please do not hesitate to ask us. Let us know your thoughts with regards to our practice. We want to see you keep smiling.
Although no one likes to go to the doctor or dentist, we strive to make your visits with us as comfortable and pleasant as possible. We believe that our patients' comfort is an important part of quality dental care.
Dr. Kawaguchi believes that your right to select a dentist is an important choice. We work closely with your dentist, but a referral by a dentist is not required to visit our office. We also welcome referrals from patients and friends and family of the practice.
Our goal is to make you feel comfortable and relaxed. We are here to listen to your questions, needs and concerns and to help provide solutions leading to your better dental health. Please do not hesitate to e-mail us if you have any questions.
Please allow approximately 40 minutes or more, for your initial visit. If you have pain or an emergency situation, every attempt will be made to see you that day. We make every effort to stay on schedule to minimize waiting at the time of your appointment. Referral of emergency patients may cause delays to the schedule, and your understanding and patience are very much appreciated.
Every meeting is unique, so we treasure every moment.
We at Hagoromo dental clinic do our utmost to provide services of the highest quality.
Nervous? Need to talk? Don't worry.
Our staff are professional, excellent listeners, and sensitive to all our patient's needs.
We get satisfaction when our patients leave with a smile.


【Our Service】
?General dentistry, Children's, Tooth Orthodontics, Counseling)
?Implant, Root Canal Treatment
?Gums (periodontal disease, pyorrhea)
?Cosmetic Dentistry
?Tooth whitening

---
トップへ » 医院について » English Page » HAGOROMO DENTAL CLINIC